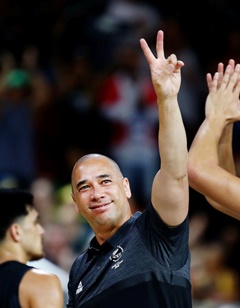 Henare has been head coach of the Tall Blacks since March 2015 and has guided them through a successful FIBA World Cup Qualifying campaign as well as a bronze medal winning success at the 2018 Commonwealth Games.
In 2019 Henare coached the Wellington Saints to the New Zealand NBL title and is also currently assistant coach at Melbourne United.
Henare was a long time Tall Black playing at two FIBA World Cups in 2002 and 2006 and at both the Sydney and Athens Olympics.
A successful club career that saw him win championships with the Auckland Stars and New Zealand Breakers. An inaugural Breaker he played on the 2011 championship winning team before retiring at the conclusion of that season He was honoured by becoming the first Breakers player to have his number (#32) retired.
He began his coaching career in his native Hawkes Bay with the Hawks in 2011 before moving on to coach Southland Sharks where he became a two-time championship winner.
He linked up with the Breakers as an assistant coach in 2013 and head coach in 2015. Henare stepped down from that role in March 2018.
Photo: www.photosport.nz