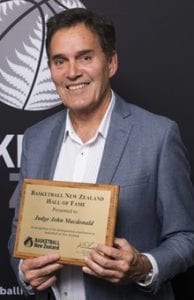 Judge John Macdonald started his basketball career in New Plymouth where he was a dynamic Point Guard and a driving force in Taranaki basketball.
Judge Macdonald was selected to the New Zealand men's team in 1970 and remained an important member of the team through to 1981. During this time he captained the team three times, firstly in 1972 and again in 1975, where he was the leading scorer at the first and only New Zealand Games, which were held in Christchurch. He captained the side and was again the leading scorer in the three match series against Australia in 1978, which was when New Zealand cemented an historic first win over Australia, beating them 67-65. In the same year the New Zealand men's team won the silver medal at the Commonwealth Tournament Championship in Britain.In recognition of his abilities as a Point Guard, the NZ NBL has named the John Macdonald Trophy for Most Outstanding Guard after him. This is still awarded.
Judge Macdonald was also known for his career in law, especially when he was appointed a District Court Judge in 1990, going into semi-retirement in 2009, but still retains an active warrant today.  Judge Macdonald was elected as Patron of Basketball New Zealand in 2012, a position he still holds today.