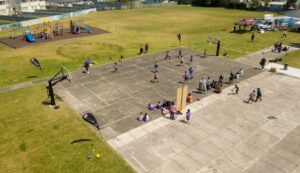 ---
Basketball is one of the most popular participation sports in New Zealand. However, participation and growth can be hampered by a lack of access to community facilities.
Basketball New Zealand's role is to advocate for quality facilities that can meet the demand of basketball players around the country. We have developed an Outdoor Facilities Guide and an Indoor Facilities Guide designed to advocate and support the development of quality facilities around New Zealand. This is in addition to recent projects such as Hoops in Schools and Hoops in Parks.
---
Outdoor Facilities Guide

This guide is designed to assist public or private organisations interested in developing or upgrading outdoor courts including basketball associations, councils and funders. This guide includes:
Social benefits of basketball.
Demand for outdoor basketball.
Six case studies of outdoor facilities.
Technical guidelines.
---
Indoor Facilities Guide

This guide is designed to assist basketball Associations, territorial authorities (TAs) and regional sports trusts (RSTs) to work together to enhance the basketball facility network and so enable more people to get active and participate in basketball.
Possible strategies for increasing facilities available for basketball include:
Increasing access to school courts for community use.
Modifying and increasing access to outdoor courts such as netball courts.
Increased flexibility about court sizes and game times.
Adapting and redeveloping existing facilities.
Developing new facilities.
Supporting the Indoor Facilities Guide is a case study that explores some of the key challenges faced by basketball Associations – Indoor Facilities Case Study.