---
---
What is Hoops in Schools?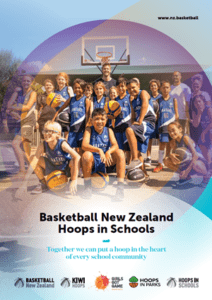 Hoops in Schools is a Basketball New Zealand programme that partners with schools, funders, local basketball associations and other basketball providers. The concept puts more fit-for-purpose hoops in schools, so young people are more active and having fun playing hoops in their communities.
A NZ Sport and Recreation Award nominee for the Community Impact Award in 2021, Hoops in Schools continues to prove that, with good planning and collaboration, we can give Kiwi kids the equipment they need to get started in the sport. This cost effective solution proves you don't need an indoor gym – all kids need is a suitable concrete surface, a good hoop and a ball.
To view an interactive version of our Hoops in Schools Information Booklet please click on the image to the left. 
---
Why Hoops in Schools?
A lack of suitable equipment and facilities is one of the biggest barriers to participation. Currently many schools are unable to provide opportunities or support the growth and popularity of basketball as they do not have basketball backboards with their school, nor do they have teachers or parents who have the confidence or expertise to implement a basketball programme within the school.
More hoops in schools means more sustainable, long term participation opportunities for our tamariki and rangatahi.
---