Volunteers are an integral part of the basketball community – the backbone of our sport
We're extremely lucky to have many hardworking and enthusiastic volunteers giving up their time every week to support the many leagues and competitions played across the country. Volunteering is a great way to contribute something towards your local community and basketball association. Whether it's coaching, refereeing, managing teams, floor sweeping or sitting on a Board, opportunities are aplenty for you to get involved.
If you're ready to give back to our great sport, please get in contact with your association by clicking here.
---
Volunteer at our National Events
Basketball New Zealand is actively seeking volunteers to provide assistance throughout the year at a range of different national events and tournaments. These events include international fixtures featuring our Tall Blacks and Tall Ferns as well as domestic tournaments and leagues. Most of these events require assistance in the following areas: front of house, accreditation and corporate hospitality to name just a few. If you'd like to assist at one of these exciting events, please click here to complete our volunteer registration form.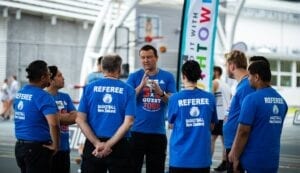 ---
For Associations: Finding & Keeping Volunteers
Sport NZ has developed the following document to assist with volunteer recruitment and retention. This document also provides information that supports and encourages sport organisations to develop better volunteer management practices in order to provide quality volunteering experiences.