Build it and they will come! That's the message Basketball New Zealand is sending to councils nationwide through the 'Hoops In Parks' pilot that was officially opened in Flaxmere, Hawke's Bay, this week.
Hoops in Parks is an initiative devised by Basketball New Zealand and Hastings District Council in 2020, in collaboration with Basketball Hawke's Bay and Sport Hawke's Bay. Much like Hoops in Schools, Hoops in Parks aims to get more people active by providing fit-for-purpose hoops in public spaces like parks.
Basketball New Zealand's Hoops in Parks project lead, Daniel Dawick, says this pilot is the first of what is hoped to be a nationwide roll out.
"Having this court open in Flaxmere is an example of what can be done and we hope other councils around New Zealand will take notice. With a bit of space, innovative thinking, collaboration and just a little bit of resource, they can create a great space like this one, where the community can join together for the love of sport. It really is a great investment.
"We hope other councils will see how this lifts the community and then contact us to find out more. We are happy to share what we have learnt and what the non-negotiables are to ensure a fit-for-purpose facility is built."
Hastings District councillor and Hastings Ambassador Henare O'Keefe, says the collaboration to get this community hoop installed was seamless and made sense. He added that the official opening brough people out to join together.
"The opening saw people of all ages, from five-year-olds to teens and older, all on the court together with huge smiles on their faces. It does your heart good to see the community all in together, heaps of parents around watching and joining in the fun – it was awesome."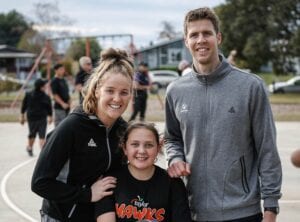 Planning for stage two of the pilot is already underway with another court planned for Flaxmere Park – New Zealand's 2020 Active Park of the Year.
"That will see almost every home in Flaxmere just a 10-minute walk from a basketball court; one at Kimi Ora School, one at Ron Giorgi III, and one at Flaxmere Park," said Mr O'Keefe.
A case study, supporting the Flaxmere pilot, will be made available to interested organisations if requested.