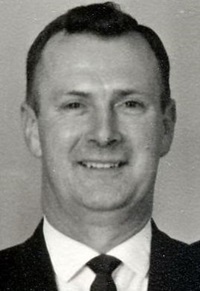 Bruce McCormack was one of the early pioneers of basketball in New Zealand. His involvement began in 1947, when along with a number of other enthusiasts, he assisted the sport's infant beginnings in the YMCA's and military gyms throughout the country.
McCormack real passion though was refereeing for which he was selected as a FIBA referee in 1963. From 1966 to 1972 he served as an executive member of the New Zealand Men's Basketball Referees Association and was secretary of the Association between 1974 and 1976.
McCormack was also a rules interpreter for 10 years, starting in 1973.  In the same year he commenced his involvement with the Canterbury Paraplegic Association and began Wheelchair Basketball in Canterbury.  This lead to over 25 years in national and international level disabled sports events.  Some of the many highlights were when Bruce was chosen as the Chef de Mission for the 1984 Paralympic team to New York, and again for the 1986 FESPIC Games in Indonesia.
In 1983, after a 30 year career as New Zealand's most respected referee of the time, Bruce retired from this aspect of the sport. He continued his involvement with the Paralympic movement and as a Manager of the Tall Blacks for several Tours.
McCormack was made an honorary international referee, the first in New Zealand to be granted this honour and a life member of BRANZ. In 1984, Bruce's commitment to the sport of basketball was recognised with an Order of the British Empire award in the New Year's Honours.
McCormack passed away in October 1998.  The award was accepted by McCormack's wife, Marion McCormack.