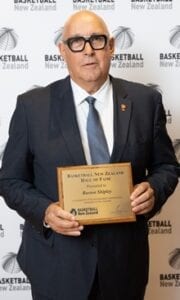 Burton Shipley has had a long association with the game as both a player and administrator.
He was a member of the YMCA Club from 1968-1975 that won the National Club Championships in 1973 and represented the Canterbury team that won the Provincial Championships in 1970. He earned a trial for the New Zealand National Team in 1974.
A noted career in farming and finance during the 1970's and 80's and a busy schedule supporting Prime Minister and wife Jenny helped prepare Burton for the many various organisational and administrative roles he has held within our game in the last 20 years.
Domestically, he chaired the NZ National Basketball League between 1999 and 2004, he has been a member of the BBNZ Board. From 2005-2010 he chaired the Board of the New Zealand Breakers.
In 2011 he was appointed an observer on the FIBA Oceania Board before, in 2014, being elected to the executive committee of FIBA.
In 2016 he was appointed as the Chair of the FIBA Basketball World Cup organising committee. The 2019 World Cup, held in China, was a huge undertaking and much of the success of the largest World Cup ever staged can be attributed to Burton's diplomatic and organisational skills.
The only New Zealander to sit on FIBA's Executive Committee in its 88-year history, he is currently Vice-President of the organisation, in addition to being President of FIBA Oceania, a position he has held since 2013.