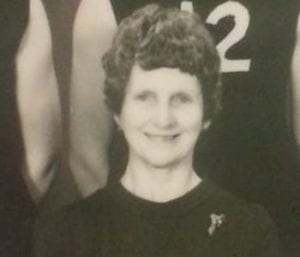 Zena Gay hailed from Nelson.  In 1946 Gay became the President of the New Zealand Women's Indoor Basketball Association, only one year after the Association's inception. She continued this role through to 1972 when it merged with the New Zealand Men's Basketball Association.  She was the inaugural Vice President of the newly formed New Zealand Basketball Federation and served a further six years on the executive committee.
Gay managed the 1958, 1960 and 1964 New Zealand Women's Basketball teams.  In 1970 she received the British Empire Medal for services to community, especially for her devotion to Women's Indoor Basketball. Her contribution to women's basketball is also recognised through the Basketball New Zealand award that is named after her – the Zena Gay Memorial Award for notable contribution to women's basketball.  Zena was inducted into the Basketball New Zealand Hall of Fame in 2016.
The award was accepted on her behalf by her son Mike Gay.