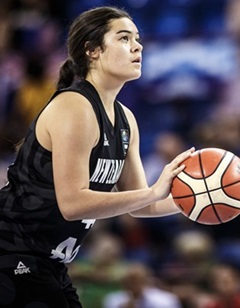 Club: Waikato Wizards
DOB: 15 September 2001
Height: 174cm
Position: Guard
Tall Ferns Debut: 2018
Junior Association: Waikato
High School: St Peter's Cambridge
Debut for the bronze medal winning team at the 2018 Commonwealth Games where she became the youngest player ever to play for the New Zealand Tall Ferns at 16 years, 202 days. Averaged 11.3 points and 4.2 rebounds per game and was joint top scorer with 18 points in the bronze medal game against Canada.
Was a member of the Tall Ferns team that finished runners-up at the 2019 William Jones Cup averaging 10.6ppg.
Leger-Walker has played a considerable amount of age-group international basketball. In 2019 she was named to the Tournament Team at the FIBA 3×3 U18 World Cup in Mongolia where the New Zealand Team claimed silver.
She has also won multiple New Zealand junior titles with both St Peter's School and Waikato Basketball.
Debuted for the Waikato Wizards in the NZ WBC in 2017 as a 15 year-old and in 2019 averaged 29 points per game to help the Wizards to a third place finish in Division 1.
Mother Leanne attended the 1990 and 1994 Olympics with the Tall Ferns and sister Krystal has also represented the Tall Ferns.

Photo: FIBA