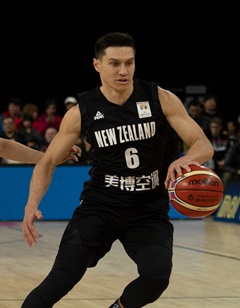 Club: Cairns Taipans | Hawke's Bay Hawks
DOB: 17 September 1985
Height: 188cm
Position: Guard
Number: 6
Tall Blacks Debut: 2011
Appearances: 70
Junior Association: North Harbour
High School: Westlake Boys' High
A member of the victorious team that defeated Australia in Brisbane in February 2020. One of just three survivors, along with Loe and Vukona, from the team that beat Australia to win the 2009 FIBA Oceania Championships 10 years earlier.
Averaged 4.8 points and 2.6 assists across the FIBA World Cup Asia Qualifiers. He and Rob Loe were the only two players to appear in all 12 qualifying games.
Was a member of the bronze medal winning team at the 2018 Commonwealth Games.
Has been a regular in the Tall Blacks set-up since debuting in 2011 although he missed the 2016 campaign due to injury.
Was a member of the Tall Blacks team at both the 2014 FIBA World Championship in Spain and 2019 World Cup in China.
Played three seasons with the Perth Wildcats in the Australian NBL and won back-to-back Championships with the Wildcats in 2016 and 2017 before signing with Cairns Taipans. Helped the Taipans to the Final Four in 2020.
Debuted for the Harbour Heat in the NZNBL in 2002 when still at Westlake Boys High and has subsequently played 18 seasons in the League – 17 seasons with the Bay Hawks. Won the Dave Taylor Award in 2019 for Most Assists, averaging 6.5apg.
Played the 2014-15 season in Germany at Licher Basket Baeren.
Photo: Masanori Udagawa