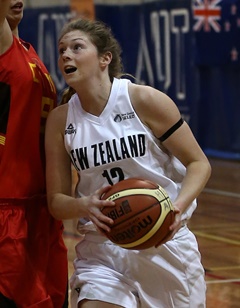 Club: Bendigo Spirit
DOB: 24 August 1996
Height: 183cm
Position: Forward
Tall Ferns Debut: 2019
Appearances: 9
Junior Association: Canterbury
High School: Rangiora High
Goulding played all 5 games at the 2021 FIBA Asia Cup averaging 8.6 points and 4.4 rebounds per game. She was the team's most efficient shooter making 65% (17/26) from the field, 40% (4/10) 3-pointers and 100% (5/5) from the free-throw line.
Was a member of the Tall Ferns team that finished runners-up at the 2019 William Jones Cup.
 Following high school Goulding spent a year at Gillette College in Wyoming before being recruited by Fordham University.
In her senior year at Fordham in 2018-19 she earned First Team All-Conference honours. Most Outstanding Player accolade at the Atlantic 10 Championship and was also named to the A-10 All-Academic team. Goulding led the Rams to the programme's second-ever Atlantic 10 Championship.
After college played for IK Eos in the Swedish League (2019-20).
Named to the 2021 NBL1 West Conference All First Team after averaging 23.8 points and 13.5 rebounds playing for East Perth Eagles.
Played for Bendigo Spirit in the Australian WNBL in 2020 and has committed to a second season in 2021-22.

Photo: www.photosport.nz