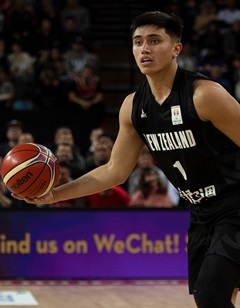 Club: South East Melbourne Phoenix
DOB: 14 October 1994
Height: 198cm
Position: Guard/Small Forward
Number: 1
Tall Blacks Debut: 2013
Appearances: 49
Junior Association: Counties Manukau
High School: Auckland Grammar
Played outstandingly well in the  victory against Australia in Brisbane in February 2020 posting 21 points, 6 rebounds and 5 assists.
Averaged 4.8 points and 3.1 rebounds during the FIBA World Cup Asia Qualifiers but missed the 2019 World Cup due to injury.
Was a member of the bronze medal winning team at the 2018 Commonwealth Games averaging 6.1ppg.
Te Rangi captained the Tall Blacks team at the 2017 Asia Cup in Lebanon.
He played his first season in the New Zealand NBL for the Harbour Heat as a 17 year old and has since played for Super City Rangers, Southland Sharks and Wellington Saints. Won an title with the Sharks in 2013 and the Saints in 2019.
Joined the New Zealand Breakers in 2012 winning Australian NBL titles with the club in both 2013 and 2015. He has played the last three seasons for the Brisbane Bullets.
Won a FIBA Under 18 3×3 title in Italy in 2011 alongside fellow Tall Blacks Isaac Fotu and Tai Webster.
Photo: Masanori Udagawa