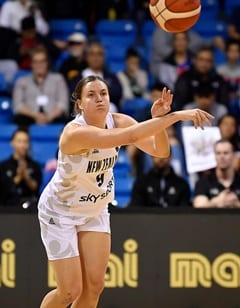 Club: Melbourne Boomers
DOB: September 25 1995
Height: 179cm
Position: Guard
Tall Ferns Debut: 2013
Junior Association: Hutt Valley
High School: Hutt Valley High School
Debuted for the Tall Ferns in 2013
Was a member of the team that won the William Jones Cup in 2018 (averaged 17.8ppg) and also a member of the 2019 team that finished runners-up (averaged 12.0ppg). Played all three games at 2019 FIBA Olympic Qualifying Tournament in Auckland.
Currently playing in Australia for Melbourne Boomers in 2019 WNBL.
Began her professional career playing for Townsville Fire in the Australian WNBL in 2018/19 but has signed to play for Melbourne Boomers in 2019/20.
Beck enjoyed a standout career at St Mary's College, California where in 2018 she was named first team All-West Coast Conference for the second time in her career after leading the Gaels in scoring, steals and free-throw shooting in her final collegiate season. She was also named to the WCC All-Academic First Team for the third time in her career. Beck finished her career 10th on the all-time scoring list at Saint Mary's with 1,439 career points.
Prior to college Beck won back-to-back National Secondary School Championships at Hutt Valley High in 2010 and 2011.
In 2013 named MVP after helping Hutt Valley-Porirua Flyers claim the WBC National championship.
Photo: Masanori Udagawa