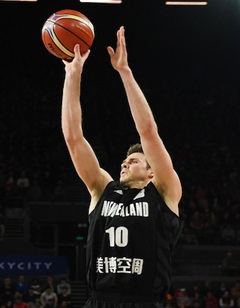 Club: Sky Sport Breakers
DOB: 5 July 1987
Height: 198cm
Position: Small Forward
Number: 10
Tall Blacks Debut: 2006
Appearances: 110
Junior Association: North Harbour
High School: Westlake Boys High School
Was a member of the bronze medal winning team at the 2018 Commonwealth Games where he led the New Zealand scoring averaging 17.4ppg. Scored 26 points in the bronze medal game against Scotland.
Abercrombie made his debut for the Tall Blacks in 2006 and has played at three FIBA World Championships – 2010, 2014 and 2019. Averaged 9.6ppg and 5.6rpg at the 2019 event. Is NZ's all-time leading rebounder at World Cups with 91 rebounds at 5.4rpg.
He was a member of the Tall Blacks team that beat Australia to win the 2009 FIBA Oceania Championships.
Following school he spent two years at Washington State University before signing with the NZ Breakers. Has played ten seasons with the Breakers is the club's all-time leading scorer with over 3,000 points and second behind Mika Vukona in appearances.
One of only three players to have played on all four Breakers Australian NBL championship winning teams.
Abercrombie won a New Zealand NBL title with the Waikato Pistons in 2009 and then again with Wellington Saints in 2019 when he won the Grand Final MVP Award.

Photo: www.photosport.nz