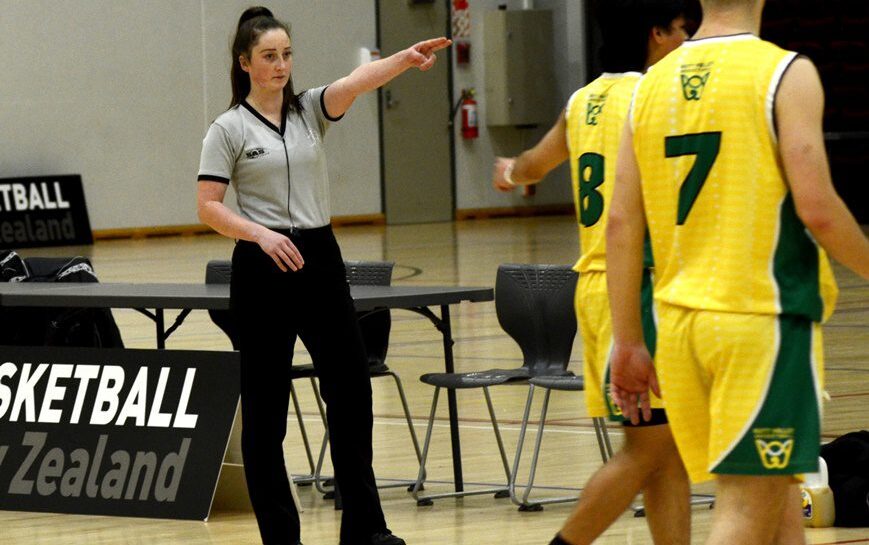 Referee Pathway
---
We have a development pathway for referees that sets out a progression of a referee from helping to run Kiwi Hoops games through to being a FIBA referee at international events. You can find out more about the development pathways in this document.
How do I become a referee?
---
You can start out with refereeing a number of ways. One way is to contact your local association and see how you can get involved locally. To find your nearest association please click here. To referee primary school Kiwi Hoops (and miniball) and basketball, doing a Kiwi Hoops Referee course in your association is a good way to get started.
To begin some training in the first stage of the referee pathway that can take you from community basketball at association and school level through to the National Basketball League and FIBA international events, you can enrol in the self-paced online Level 1 Referee course.
You don't need any previous refereeing experience to begin the Level 1 Referee course. Simply follow this link to the BBNZ portal in Sport Tutor, click on "BBNZ Catalogue", then search for the Level 1 Referee course in the catalogue and click on it for a course description. From there you can enrol in the course, including setting up a Sport Tutor login if you don't have one.
You can work through the course at your own pace. Once you have completed it, you can enrol in a practical workshop. These are run in your local association by trainers accredited by BBNZ.
For more information on getting started as a referee, please contact our Referee Development Manager here.
National Age Group Championships
---
Do you want to be a part of our national pathway? Attendance at one of our national age-group championships will ensure your place on the national pathway.
Basketball New Zealand is responsible for the selection of officials who attend our national age-group championships. If you're interested in finding out how you can get involved at one of these events, please contact us here.
Additional Documentation
---