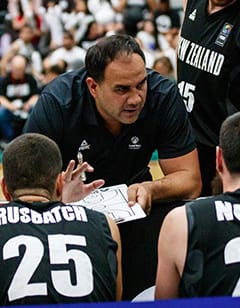 Cameron began his Tall Blacks head coaching career in stunning fashion leading the team to a win against Australia in Brisbane in the Asia Cup Qualifiers in 2020.
Cameron commenced his coaching career with Wellington Saints in 2010 and led the club to consecutive championships in that year and also 2011. Also in 2011 was appointed assistant coach of the Tall Blacks.
Arguably New Zealand's greatest ever player Cameron is the only Kiwi to be inducted into the FIBA Hall of Fame.
He captained the Tall Blacks (2000-2010) leading them to fourth place at the 2002 FIBA World Championship, earning an All-Tournament Five selection in the process.
In all he played at three FIBA World Cups and at both the Sydney and Athens Olympics.
Cameron won nine NZ NBL championships as a player, four with Waikato and five with Auckland. He was an inaugural New Zealand Breaker in 2003 and played overseas in Australia, Malaysia, Turkey, Iran and England where he was a championship winner with Chester Jets.
He coached Waikato Pistons in 2014 and since then has been based in Queensland.

Photo: www.photosport.nz